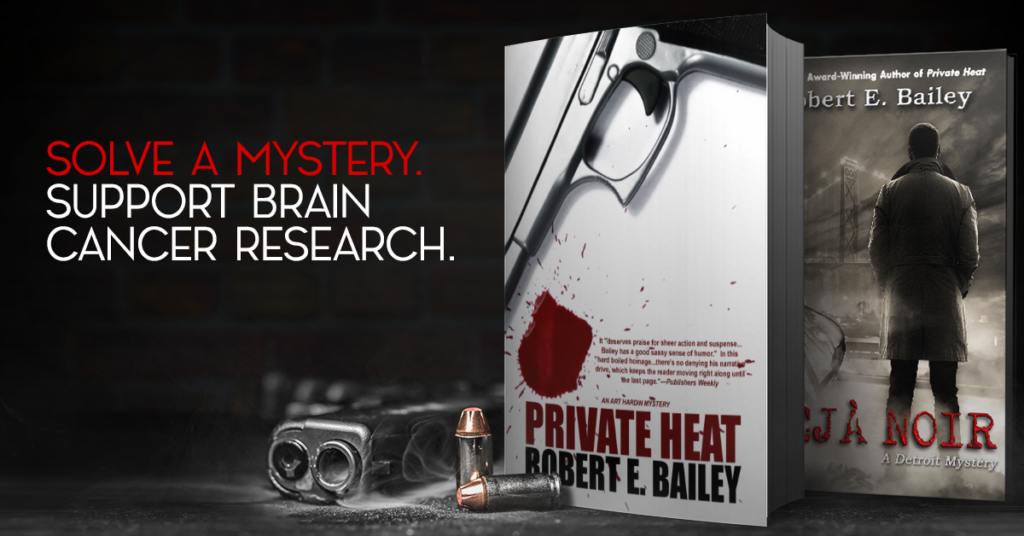 May is Brain Cancer Awareness Month and during the month of May, the eBook of Robert E. Bailey's novel, Private Heat, first in the Art Hardin series, will be on sale for only $2.99, with all author royalties going to the American Brain Tumor Association, a nonprofit organization providing support services and programs for brain tumor patients and their families, as well as funding brain tumor research.
In August 2011, Robert Bailey was diagnosed with glioblastoma, a form of malignant brain cancer. Bob had surgery and came through with flying colors! He continued to work on his next novel, Déjà Noir. Sadly, Bob suffered an inoperable recurrence but lived long enough to do one revision on Déjà Noir. He succumbed to cancer shortly after, on November 8, 2013. Déjà Noir will be published this August and be available in print and eBook editions. In the meantime, we hope you'll buy Private Heat and help support brain cancer research.
Private Detective and retired counterintelligence officer Art Hardin usually stays away from the flashy kind of PI work, paying his bills by doing surveillance, checking up on false disability claims, and the like. So when the senior partner one of the premier legal firms in Grand Rapids approaches Hardin about a job protecting his niece from her soon-to-be ex-husband for a couple of days, Hardin isn't exactly eager to take on the job, not the least because the niece herself is under house-arrest pending a murder investigation of her former boss . . . and the sudden disappearance of eleven million dollars . . .
Mystery Scene magazine named Art Hardin one of its top 100 private eyes. Read the rest of the Art Hardin series in Dying Embers and Dead Bang.