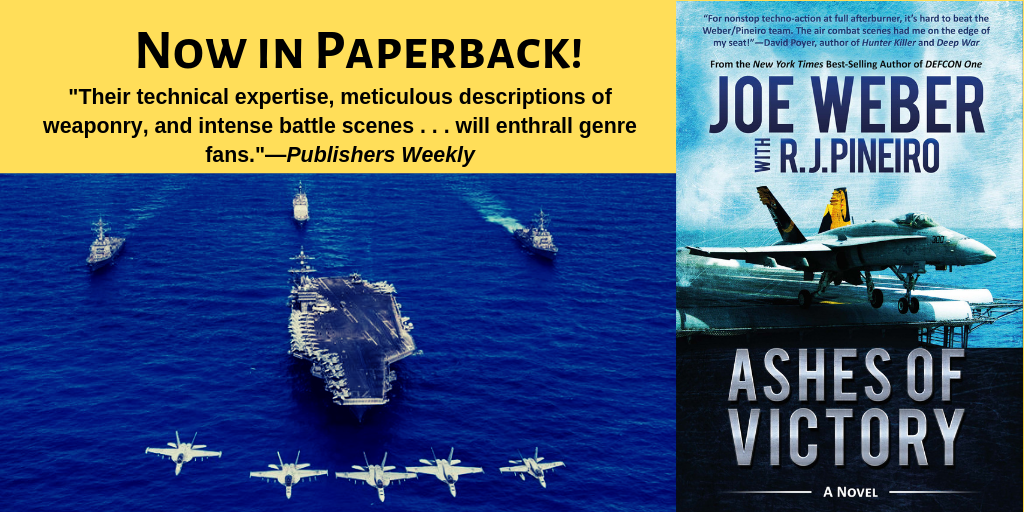 It's July 4th, Independence Day. But it's also the paperback publication day for Ashes of Victory. Yes, the long wait is over. Sure, you could have bought it in hardcover or eBook already. But we get it. Your entertainment buck has to stretch. So you wait for the paperback or for the eBook price to drop. Well, today is your lucky day!
"For nonstop techno-action at full afterburner, it's hard to beat the Weber/Pineiro team. The air combat scenes had me on the edge of my seat!" —David Poyer, author of Hunter Killer and Deep War
"A mysterious terrorist organization targets U.S. naval forces in this exciting military action thriller. . . . Their technical expertise, meticulous descriptions of weaponry, and intense battle scenes . . . will enthrall genre fans." —Publishers Weekly
From the New York Times best-selling author of DEFCON One, Joe Weber, and R. J. Pineiro, the acclaimed author of Without Mercy, comes a new novel of global terrorism and international conflict.
The unthinkable has happened. The United States is under attack. From the sea and the sky, the devastating attacks come, crippling the US military s ability to respond. Thousands have been killed and injured.
For President Cord Macklin, this is the greatest challenge of his life. Greater than risking his life in the skies over Vietnam and greater than guiding the country through some of the most trying times in its history. But none has been more trying than this.
Below the sea, a predator stalks the pride of America s Navy: its aircraft carriers. Deadly and silent, this killer seems able to elude all efforts to find it.
In the skies over the Pacific, a belligerent China flexes its muscles, seeing an opportunity to exploit America s sudden vulnerability. As Chinese and American fighters play a deadly game of chicken high above the US fleet, one wrong move could plunge the world into war.
Behind all of it, a Saudi prince and a rogue Chinese general pull the strings of their many puppets, acting in concert to achieve their joint goal: the crippling of the United States of America.
Yet the greatest threat remains to be seen. Can the president and his cabinet defuse the situation? Can a top-secret team of spies and Navy SEALs find and stop the perpetrators before the very balance of global power shifts?
From Asia to the Middle East, America finds herself at war, stretched thinner than she has ever been.
You can buy it now from Amazon by clicking here: https://amzn.to/2LA1MHD.*
*We are an Amazon affiliate and may receive a commission from any sale generated from the link above.